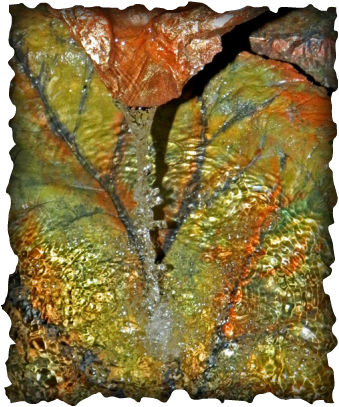 Sculptures with Flowing Water
Our active water sculptures feature the amazing sights and sounds of moving water, providing wonderful ambiance and tranquility to your patio, deck, garden or yard.
In contrast to generic mass-produced backyard fountains, our flowing water sculptures are one-of-a-kind massive concrete artworks that are designed for the unique requirements of your outdoor space (large or small). They are carefully handcrafted by zealous local artisans to fit your space, matching your plantings and color-schemes. The artwork becomes the centerpiece of your unique outdoor oasis.
With your input we will determine what type of sculpture is perfect for your home and your preferences, be it one of our multiple leaf designs, a floral design, a "geode" design, a water-wall, a hanging sculpture, etc. Our flowing water sculpture will be custom-matched to your unique personal taste and desired location (patio, deck, garden, or yard, even part of an existing pond/stream).

---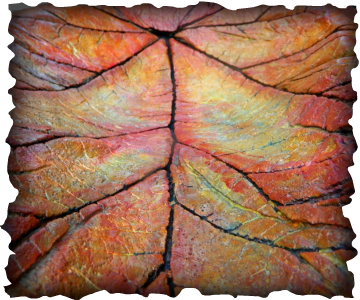 Handcrafted Beauty and Elegance
Our sculptures deliberately emulate the forms, textures, structures and colors that we see in creation... the flowers, leaves, shells, curves, striations, scales, and grains of organic creations and natural stone. We do not seek manufactured perfection and smoothness... but organic, natural looks that seem to have grown and aged in place.
Each part of your sculpture will be molded and hand-cast in a custom design from strong and durable concrete materials that we have painstakingly developed to provide a complete balance of look, form and function in handling flowing water. We don't use rubber molds or factory-produced molds, but hand-build our molds with sand, boards, cardboard, leaves, sticks and other materials from nature.
Each piece of your sculpture is hand-colored by the artist with stable and long-lasting stains and sealants. Each part will usually require 15-20 coats of stains and sealants, depending on the final coloration and "look" desired. We then "fire" the final coating, resulting in a ceramic-type glaze of incredible beauty that provides weather-protection.
Our leaf flowing-water sculptures are cast from very large rhubarb leaves that we grow in our gardens. The leaves are destroyed by the process, so no two leaf castings are the same. Our floral water sculptures are hand-cast from sand-molds that are individually carved for your sculpture by the artist and then destroyed after the casting.
---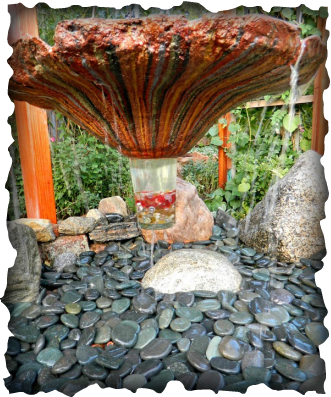 The Ambiance of Flowing Water
When we install a water sculpture at your home we hand-tune the reservoir size and water flow to minimize evaporation and to enhance the flow of the water and the sound. We custom fit the appropriate pump and plumbing for the elevation and flow of the sculpture, and determine the best type of catch reservoir or basin for the feature. We can use a below-ground "disappearing" reservoir where the water seems to disappear into rocks on the ground, or run the water from your pond or existing water feature.
We have become adept at using high-efficiency outdoor LED lighting inside and around sculptures (white, colored, or multi-colored LEDs) to enhance the beauty of your water feature at night. Why let the resort in Las Vegas have all the "mood" lighting at night, when your home, garden and sculpture can evoke the same "resort" feel? Your sculpture can be attached to an existing low-voltage garden lighting system, or a new one. We will help you chose and install high efficiency LED lighting for your sculpture if you want to enjoy the feature at night.

---